Office workers are now home workers, and it's here to stay!

COVID-19 and email marketing, how to go about it?
It is back to school season, and like your consumers, you have changed. You are checking your emails more than ever before and you are probably adapting to a new reality: working from home. You cannot deny that in Quebec, 6 out of 10 workers now prefer to work in their home even though 87% feel that their employer has taken all the necessary precautions to protect them from COVID-191.
Your clients have changed their work and consumption habits. They may no longer stop at the corner grocery store after work. You need to adapt your communications to attract customers in a different way, so why not with a tool they use all day long?
A GUIDE TO ADAPT YOUR COMMUNICATIONS TO THE NEW REALITY!
Discover how email marketing is affected by the pandemic and what new methods will help you adapt your marketing communications. From the work-from-home phenomenon to the need to stay connected, we review all the significant changes resulting from COVID-19 that solidify the status of email marketing as the advertising media of the future.

You will not be surprised to learn that teleworking is gaining popularity. Urban centers are becoming deserted and students at many colleges and universities must take online classes. This results into a blatant decrease of traffic in physical stores and increase in online commerce.
The behavior and consumption habits of a considerable portion of your customers have changed. Your business also has changed, but one need remains: to keep communicating with a revised marketing, promotional and advertising plan.
While a recent report speaks of an uncertain short and mid-term future for private radio and television broadcasting in Canada1, companies find themselves deprived of an important audience. But is this really the case or simply that companies need to change their medium? At the end of the day, the consumers are still out there. But they have converted their habits to more techno alternatives such as Spotify, Netflix and Apple News.
Communication is essential to the survival of your business, so you need to provide a bigger budget share to new media. Redefine the term "media placement" in your marketing jargon and explore new options. Opt for online sales, web streaming, podcasts, and make use of email marketing to build customer loyalty.
The growing popularity of teleworking has significantly increased the performance of new media as a tool for delivering effective advertising messages. Let's take email as an example. A recent report analyzing the opening rates of more than 2.5 billion promotional emails reveals that newsletters are consulted now more than ever before.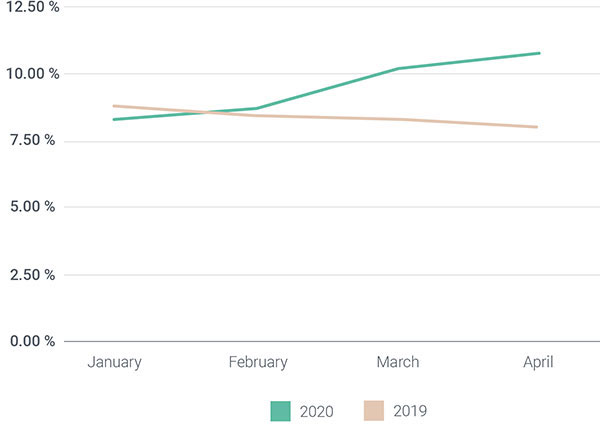 As shown on the graph, from January to April 2020, the opening rate of the newsletters rose significantly during the first lockdown that started in March.2 Of course, the closing of stores partly explains this increase, but the explosion of teleworking also has had its share of responsability.
After all, email is alongside teleworkers all day long!

It's teleworking time: go data downloading and device connectivity! Yes, but… humans need to socialize and stay connected with their peers. Did you know about Zoom and Team Viewer before the pandemic? Did you use Facetime as frequently? Your customers are connected online with their friends and family and they are looking to do the same with their favorite brands. They want to be charmed by new offers and privileges associated with their loyalty. They expect to receive quality after-sales service, even if the purchase was made online!
Newsletters and automated email marketing are perfectly suited to meet your customer's expectations. When new clients make an online purchase, quickly add their email address to your mailing list and through automation, send them promotional emails at specific time points after the transaction. For example, the email could reward the customer or verify his or her level of satisfaction. This personal connection with your customers will result in them thinking about your brand for future needs.
Email marketing was not born with the pandemic. It has been one of the most effective ROI (return on investment) for a long time. However, it has become an even better marketing resource since the beginning of the pandemic! The conversion rate as of early 2020 was exponential as shown in this graph, with a 23% increase from March 16 to April 26 compared to 2019.1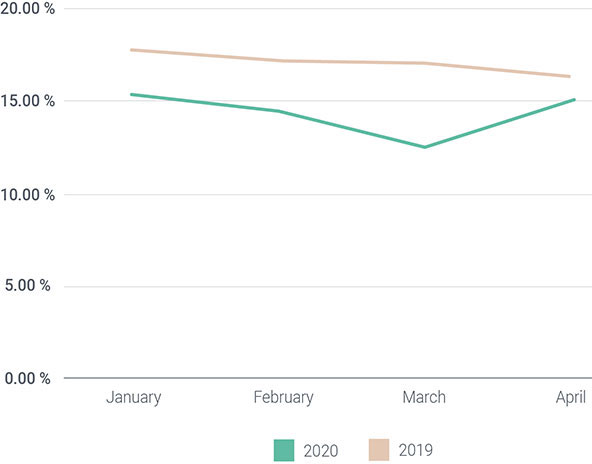 You should no longer think of email marketing as simply building a database with permanent contacts and sending out monthly newsletters. It's about creating comprehensive email marketing strategies that have the potential to attract new customers while improving your customer retention.
Consider building multiple campaigns with different goals, such as contacts acquisition, post-purchase retention and customer re-engagement. Refer to professionals to put in place a complete emailing strategy closely linked to your promotions. Plan your actions in advance and allow the time needed to produce newsletters that catch eyes!

Whether your customers were unemployed during the lockdown or are now teleworking, the pandemic has changed the perspective of many people on how they spend their money. The desire to save has become commonplace: discount coupons, 2-for-1 promotions and discounts at the checkout will attract your customers more now than before the pandemic.
In such circumstances, a good email marketing strategy must use both post-purchase emails that are automated and promotions using more traditional newsletters. Your customers are looking for discounts. Make use of price reductions to gain new customers and then follow-up with a customer loyalty campaign. Your contacts are currently opening your emails with savings in mind.
Here are a few examples of automated customer loyalty newsletters:
Using promotional-oriented email automation that is triggered at the right time in the purchasing process, you will make the most of this period of economic uncertainty. You will contribute to the savings sought by your customers while ensuring the sustainability of your business.

ADNETIS :
A company based in Gatineau, Quebec since 2003!
Take pride in being a local business and show your colors! If your company shifted towards teleworking and you do not have a physical store of office, as we are, or you are in the B2B business, you must show customers your roots. More than ever, your customers are looking for products online, but locally made.
In the spring of 2020, you may have been one of the respondents of a survey that predicted an endless craze among Quebecers to buy local, a movement driven by a desire for self-sufficiency. A few months later, people had already forgotten about this trend and the data was proven wrong, but the cause of this disappointment is revealing.
According to the firm Léger, prices are to blame. Indeed, people would not be willing to change their consumption habits if it meant a 5% increase in costs.1
"There is a nationalist flame, there is an intention [to buy local], but you have to eliminate all the irritants between the intention of the person leaving home [and the purchase of] the product. …] They must find it, they must be able to distinguish it, and it does not have to cost more. If that is the case, they will buy Quebec-made products or services." [free translation]
Jean-Marc Léger
Since then, advertisements on the importance of buying locally have been raining down on all media. Are the Quebecers intentions to buy local becoming a reality? What can your business do to facilitate local purchasing? One thing is certain: you must use all the tools at your disposal, such as the Panier Bleu, to promote local purchasing.
Do not forget that email has one of the best ROI. You can target your customers precisely and locally by efficiently managing your database.
5. The importance of trust

Special measures due to COVID-19 are implemented in all environments. The uncertainty that came along with the pandemic changed the habits of consumers. Hence the craze for teleworking and online shopping!
Whether you are in the restaurant, retail or service industries, it is imperative that you reassure your clients of the measures you are taking to prevent the contagion. Your loyal customers will eat elsewhere if you don't put them at ease. In other words, it is essential to reassure!
The trees are now changing colors. Unless there are new measures implemented from your government, it is a little late to send out a newsletter strictly dedicated to the sanitary measures you have undertaken. However, always include a space for these measures in your newsletters.
Are you selling online? Congratulations! Use newsletters to give trust in your distribution methods. Send order confirmations and delivery follow-ups by email, and clearly include the order cancellation method. This way, you will be able to offer risk-free shopping and you might even want to waive shipping charges. Using this technique, you will reduce the worries that customers may have regarding online shopping.
Don't forget that consumer trust starts with a good relationship and that you must comply with the Canada's Anti-Spam Legislation (CASL) and objectively obtain the consent of your contacts to send them marketing-oriented emails.

Your customers are mobile! They no longer ride horses and they all have cell phones. Everywhere they go they have their screen in hand and you must take advantage of this situation! You know how important it is to have an official website and not just a Facebook page. It is the same thing with your newsletters. They must be mobile because 60% of emails are opened on a mobile device. The pandemic has only accelerated this change!
In fact, when working at home, few people manage to stay in front of their computer screens for 8 hours at a time and it is even recommended to take longer breaks when working at home.1
Of course, the smartphone remains a source of entertainment during the break or lunch hour, especially without a companion to chat with. That is why if your customers are looking at their personal mail on their phones during their breaks and your newsletter happens to pop up, they need to see a proper visual rendering.
If you are not already comfortable with creating emails optimized for cell phones, pandemic is just one of 1,000 reasons to get started.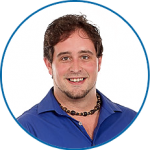 Want professional advice?
Email-based communications strategies are no secret to this email software specialist. When ever you have questions about emailing strategies or how to get to a certain design goal, he his there to handle the situation.
Get more details on the impacts of COVID-19 on email marketing and how to adjust your communication to this new reality by contacting him right now! He will be able to offer you innovative and creative solutions for your email marketing campaign.
C : fsauve@adnetis.com
T : 1-877-638-6584