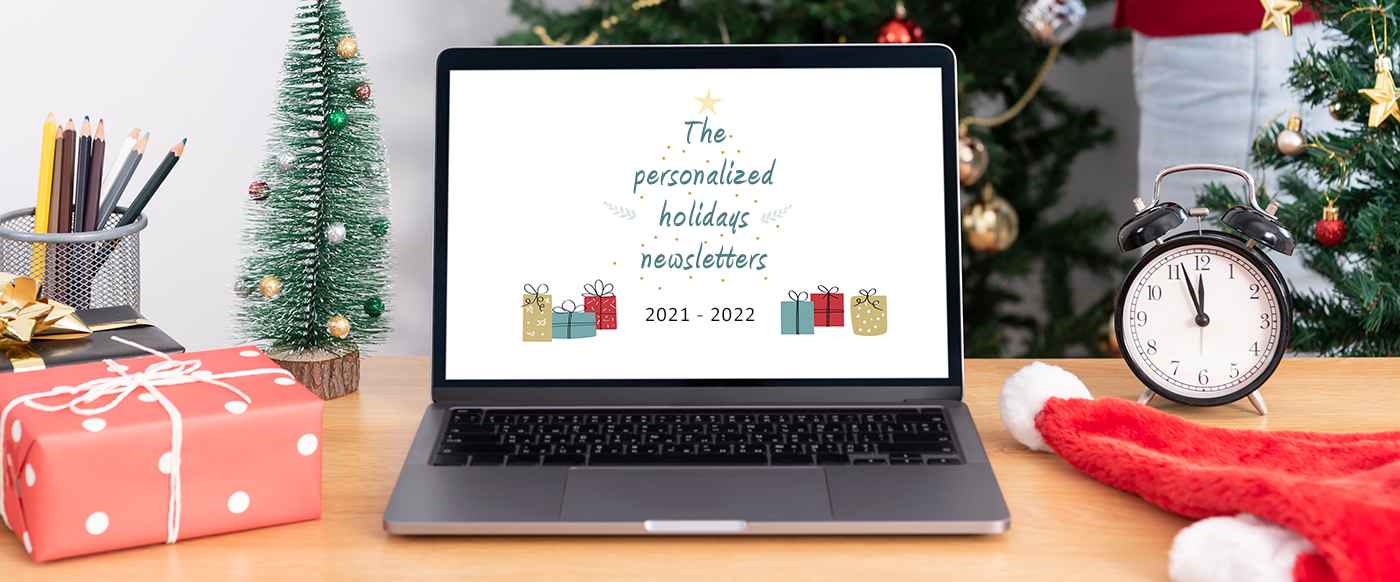 The holiday newsletter is as popular and effective as ever!
MODERNIZE YOUR HOLIDAY MARKETING STRATEGY!
The holiday newsletter allows you to create and maintain a bond with your customers that is essential to increase their trust in your brand. They will not remain indifferent to this thoughtful gesture that will help you start the new year on the right foot!
An original and well-thought-out card, a bit of humor or a tone different from what they are used to read from you will attract more attention than a conventional sales pitch.
If you work hard to keep up with the latest tendencies and marketing strategies in your field in addition to adapting to an increasingly tech-savvy post-pandemic world, but every year your holiday letters look the same, we invite you to go back to the basics as the 2021 holiday season approaches.
This year, take a moment to refresh your traditional December marketing by taking full advantage of the holiday newsletter.
To help you get an idea of the added value of the holiday newsletter compared to any other technique to get your wishes across, here are answers to the big questions surrounding this marketing strategy.

Why

send a holiday newsletter?
There are plenty of reasons to send a holiday newsletter to spread good wishes to your customers as December 25th approaches:
Show your customers that they are not just a number.
Strengthen your relationship with your customers.
Thank your customers for their loyalty.
Spread your brand values.
Simply to spread positivity.
There are a variety of ways to communicate your wishes. So why choose email?
Personalization
An ecological concern
Statistics
Management
The cost
Newsletters are simply more modern and come with a complete technological arsenal that makes receiving wishes more harmonious.
The only drawback: the volume!  You will not be the only one sending out holiday newsletters this year. Inboxes will be full of holiday cards. So, you need to stand by taking advantage of opportunities that seemed impossible before the advent of this tool:
Traditional or audacious?
Should you send a corporate newsletter with a traditional style or one that is full of creativity??
It depends on both the relationship you have with your customers and if they are professionals. You have to find the limit of what is appropriate when addressing your customers.
The end of December is nostalgic for young and old! Despite this nostalgia, no one will buy a black and white TV! You must take advantage of modern email technology to deliver clear messages that will strike a chord in the minds of your subscribers!
Can I put an advertisement in my holiday newsletter??
Certainly, as long as it does not constitute the main message of your newsletter. After all, this is a very important time of the year for many businesses and the competition is strong. However, most of your advertising should be done before you send your holiday email!
If you are running a sales promotion, use landing pages to redirect your subscribers where they can complete the sale while maintaining the integrity of your newsletter!

How

to create a holiday newsletter?
Sending out a holiday newsletter? Great, but what are you sending? Here are two (2) tips to ensure the success of your newsletter!
Unlike your regular newsletters, which may contain some imperfections, your holiday email must be impeccable to stand out in the inbox! It should be dressed up for the big day!
Use the knowledge of graphic designers to create a personalized newsletter for your company. As much as possible, avoid generic fairy tale decorations that are not related to your industry. You do not send out cards from Dollar Tree! Personalizing the newsletter to your company will make a real difference in the quality of your holiday communications!
In need of creativity?
Give a call to our graphic designers they will be glad to help you create newsletters that will not go unnoticed!
Maximizing acquired experience from previous years
There was a holiday season last year and there will be one next year! That gives you the opportunity to continually improve your holiday newsletters by analyzing your data. Keep the successful elements and remove those that do not work!
Your subscribers do not receive your emails? Opt for deliverability optimization!
A visual problem in a particular inbox? Opt for multiplatform optimization!
A newsletter not compatible with mobile devices? Opt for mobile optimization!
Be sure to consult your data from the previous year to properly identify the success factors!
Are you short on time? Do you want to design the perfect holiday newsletter? Delegate the design and optimization to our team of experts for optimal results!

When

to send your wishes?
Unless you are incorporating a boxing day promotion into your holiday newsletter, email marketing on December 25th is to be avoided! Advance the date of delivery by a few days to not intrude the family time of the subscriber!
Who is your target audience?
The general public?
Sending your holiday wishes from December 20 to 23 is great! As for the exact timing, statistics suggest that it is more beneficial to aim for the middle of the day.
Businesses?
Do not go past December 22nd! After that date, they will either be too busy to process the information or their minds will already be on vacation. Send your email early in the morning and please do not wait until the company is closed!
Incorporate your wishes into your other communications
We have been sending holiday cards for over 18 years. We have created holiday newsletters of all kinds, but one thing never changed: there are two types of senders! The "organized" and the "latecomers"!
What type of sender are you??
If you are of the "organized" type, you need to determine your communication schedule before you even think about your holiday newsletter design!
A holiday newsletter a few days prior to December 25th?
A complete holiday shopping campaign?
A new year's offensive?
No matter what your communication strategy is, you need a calendar to stand out at this time of year. Linking your holiday newsletter to a full holiday campaign is great, but it is best to plan ahead and avoid sending out hasty wishes!
Our strategists are available to help you create an optimal communication schedule!

Who

to send this newsletter to
The simple answer is… to all your contacts.
The expert answer is… not the same to all.
Email marketing offers you unparalleled opportunities, take advantage of them!
Before sending greeting cards to your relatives, do you write their names in them?
Of course you do! Do the same thing with your newsletters! Part of the secret of a successful holiday newsletter is personalizing it with the name of the subscriber. Personalizing your printed holiday cards sent by mail is unthinkable, but with email… everything becomes magical with a good database!
Do you give the same presents to all your relatives?
Certainly not! Do the same with your holiday newsletter! Take advantage of your database segmentation to send personalized wishes to your subscribers: a newsletter for customers, one for suppliers and one for employees. Adapt the textual content of each email and personalize the visuals according to the interests of each branches of your database!
Could use a little help to segment your contacts?
Our data analysts provide solutions adapted to your situation and your needs!
Contact our specialists to create a campaign in which personalization is at the heart of your marketing!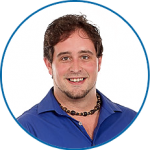 Want professional advice?
Email-based communications strategies are no secret to this email software specialist. Whenever you have questions about emailing strategies or how to get to a certain design goal, he is there to handle the situation.
Get more details on the holiday newsletter by contacting him right now! He will be able to offer you innovative and creative solutions for your email marketing campaign.
C : fsauve@adnetis.com
T : 1-877-638-6584