The Canadian Anti-Spam Legislation is a real advantage!

DO YOU MANAGE YOUR SUBSCRIBERS' CONSENT TYPE?
You send emails to recipients regardless of Canada's Anti-spam Legislation (CASL)? You must comply with it without delay! CASL represents new benefits for Canadian companies and an opportunity since you will build privileged relationship with people who actually consent to receive your emails.
Remember, you always have to comply with the CASL if you're sending emails to Canadians. You have to know the big headlines and a setup to manage the different the criteria. By doing so, your subscribers will give you a significant advantage over the competition. Fortunately, the ADNETIS email marketing software has all the features you need to comply with the CASL rules. Our experts are available to push your understanding of the legislation even further.
In short, this law was put in place to counter spammers who sent all kinds of fishy emails. The Government of Canada setup the C-28 Law in order to make sure that all Canadians can decide whether they give permission to someone or a company to send them email. The CRTC has the primary enforcement responsibility of the law.
How exactly does it impact your email communication? Simple! You must obtain permission as well and manage emails that you don't avec an explicit consent depending on how you got those emails addresses.
CASL defines several types of contacts that may be in your database. It targets all commercial electronic messages (CEM), so any marketing campaign must be built with the desire to comply.
What are the types of consents?
In the best of all worlds, all your contacts would be identified as an Express consent. It would mean that they have explicitly given you the agreement to receive emails from you. It's simple! Your Express consent subscribers must say "yes" to have an Express title.
If you own a transactional site, you can ask your buyers to check a box when felling out their email address in order to receive your newsletters. If they do, they will be assigning as an Express consent. If they don't, you still can send them emails, by the consent would be Implied with a delay of time. Be careful thus, your check box can't be checked in advance.
Once you've gotten into the world of email marketing, you'll see that the ultimate goal of every business is to turn all of your contacts into an Express consent.
See details on the CRTC's official website …
IMPLIED

consent - applicable to

CUSTOMERS

for

24 months
You may obtain email addresses by asking customers at checkout or online. These are identified as implied consent. As soon as they have a business relationship with you, which means that they buy one of your products or services, you then have 24 months to send them emails, and at the same time get their direct agreement so that you can classify them as express consent subscribers.
Note that if a customer whose email you already have makes a new transaction with your company, the countdown restarts, so the 24 months are reset.
See details on the CRTC's official website …
IMPLIED

consent - applicable to

PROSPECTS

for

6 months
These are emails that you've obtained from requests for information about your company without having a business relationship with them. For example, you visit a website and you're asked to enter your email address to continue browsing. This company is then allowed to send you emails for the following six (6) month. Also, if you send an email to a company, whatever's its subject, that business therefore gets your address and can classify you in this category.
See details on the CRTC's official website …
IMPLIED

consent - without any time delay
The last possible title you can use to identify new subscribers is only available to those who meet the two following criteria. First, the email address must be posted to the general public. That means it has to be displayed somewhere (on a business card, a website, social media, etc.) accessible to all. So, you don't need to get consent, because the person who manages the address allows everyone to send emails to it.
However, to send that address marketing emails, you must comply with the second criterion, which consists of only sending emails containing information that could meet the needs of the company or the individual. If your answer to both criteria is yes, then you can treat these contacts in the same way as express contacts.
Features that'll simplify your task
Now that you know exactly how to classify your contacts in order to comply with CASL and simultaneously make sure you have a solid database of contacts who are interested in what you offer, see how the ADNETIS platform is built in adequacy with this subscriber classification system.
Go to the section « Contact Management – Subscription Log » to view all the actions taking by your contacts regarding consent. You can see subscription confirmations and unsubscriptions, along with comments left by the addresses owners to justify their departure.

Massive integration in accordance with the type of consent
When you integrate your contacts, you must select their type, which means that you can't forget to comply with the law. In addition, depending on the category you select for each list, a countdown will start, meaning that the system will remember for you the expiration date of each contact.
You'll receive an email every Monday morning resuming the situation of your database, so that you'll be alerted in advance if a certain number of your audience is heading towards expiration, giving you time to react accordingly.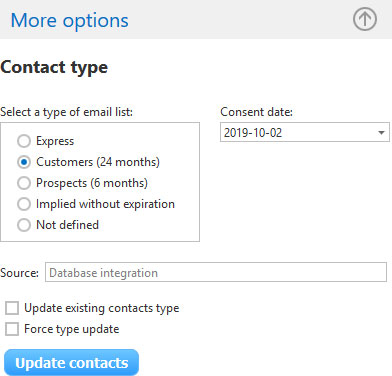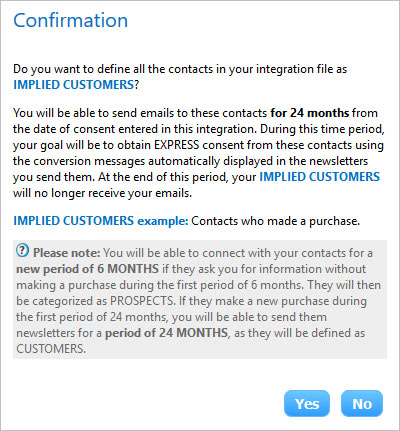 A customizable consent confirmation band
Automatically, each email you send to an address with an expiration date will contain a subscription confirmation band, to allow that contact to subscribe indefinitely. The ADNETIS platform, however, offers you the possibility to personalize it to reflect your company's image. That lets you insert it wherever you want in the message, and give it a more attractive appearance.
See for example the rendering of a custom band in comparison with the default one: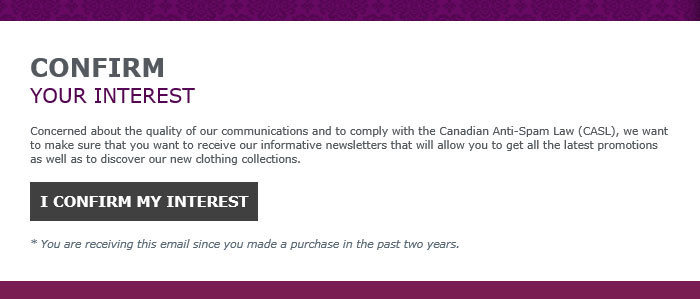 Other information to know about the CASL
In addition to the way you manage your contacts, there are other constraints that a commercial organization must adhere to in relation to CASL.
Always make sure that the content of your newsletter is truthful and not misleading. A lack of transparency in your marketing communications is obviously against all consumer laws. An example of information that should be included in your email: whether or not taxes are included in the price of the product.
Verify that your message contains all the information needed to identify your business. Your business name, the name of the person sending the message, a postal address valid for at least 60 days after you send a message, a telephone number and an email or web address are all required by the law.
Give the customer control with clear instructions regarding how to unsubscribe and manage each unsubscribe request within 10 business days, otherwise your company will not comply with CASL.
It's also important to note that there are other laws around the world that share the same goals as the CASL. However, they're all different on certain points. That's why you must know the destination of your emails.
You send emails to the United States? Make sure you comply to the CAN-SPAM. To Europe ? The RGPD is the law that governs email sending on this continent. The latter's the strictest of the three, so if you send emails internationally, it's recommended to make sure that you do it in agreement with this one.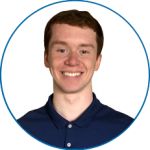 Want professional advice?
Young and dynamic, Jérémy knows the new media and the potential of a successful email marketing campaign.
Get more details on why
the Canadian Anti-Spam Legislation (CASL) is a real advantage
by contacting him now! He will be able to offer you innovative and creative solutions for your email marketing campaign.
E: 
jbergeron@adnetis.com
P: 
1-877-638-6584