What is the ideal length of a newsletter?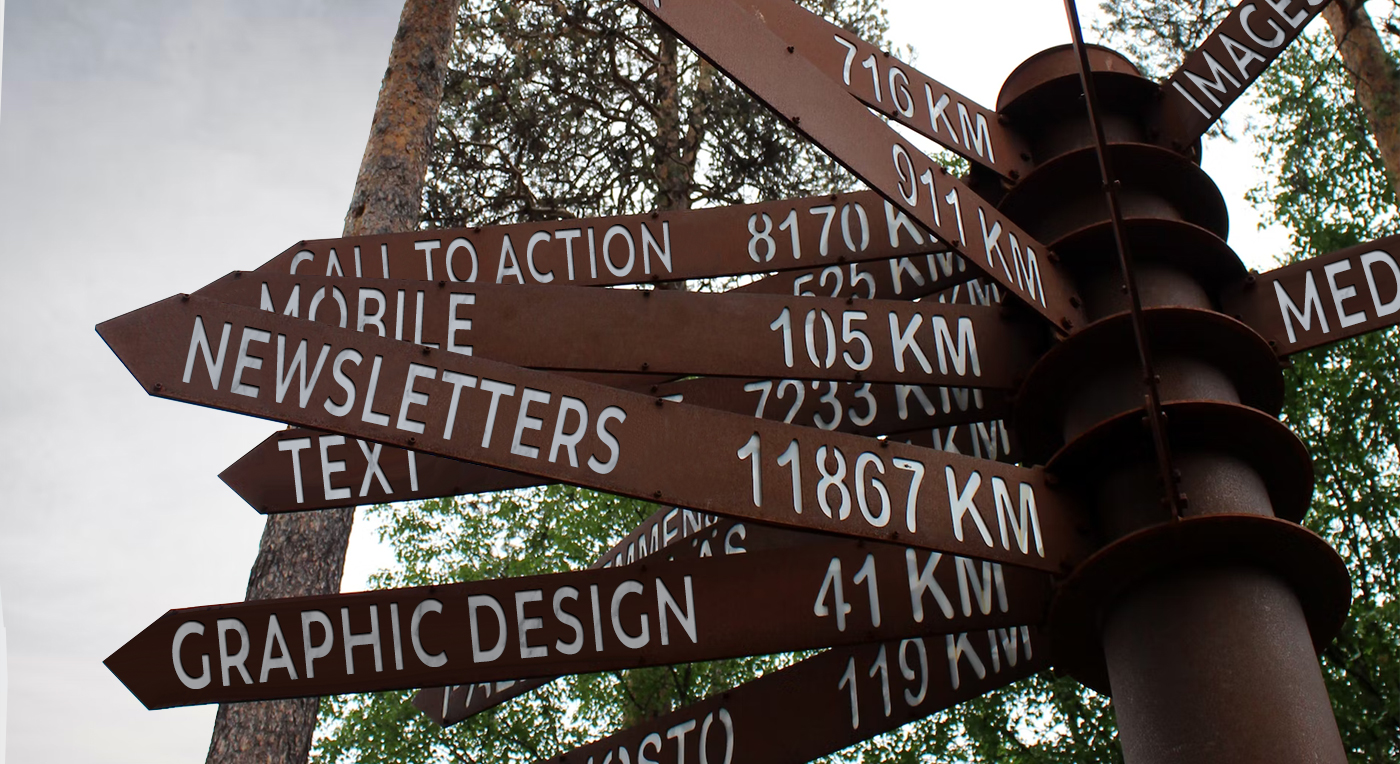 Get on the right path with a head start!
NOT TOO SHORT, NOT TOO LONG, MAKE SURE YOUR NEWSLETTERS STAND OUT!!

Did you know that newsletters are typically read for an average of 51 seconds, and the ideal text density is between 50 and 125 words? This is no surprise when considering that your contacts are projected to receive up to 130 emails per day in 2023!
Discover the best practices related to newsletter length!
What is

the impact

of newsletter length?

What perception do your contacts have of your newsletters? A train entering the inbox?

The numbers indicate that email is gaining popularity! Globally, the number of bulk mailings continues to increase, as does the number of users. This trend is no exception in Canada, where the "Canada Email Commerce 2021" report shows that 85.9% of Canadians were sending and receiving emails in 2021, which is nearly 13% more than those claiming to listen to music!
While the volume of emails sent across the country demonstrates the importance of newsletters as a communication tool, it also presents an issue of overexposure. In fact, your contacts spend an average of less than a minute reading your newsletters. Consequently, your emails are closer to the trash bin than ever before, highlighting the importance of knowing the ideal length of a newsletter.
How can optimizing the length of your newsletters improve subscriber response? Let's first look at the results of a recent study!
The contacts have spoken!
Only newsletters containing between 50 and 125 words achieve an interaction rate of over 50%.

Your subscribers judge the relevance of a newsletter within 51 seconds on average.

Too long = too much time to invest.

Too short = not important.
What should you consider?
Mobility: A newsletter that appears short on a computer will extend on a small screen.

Anti-spam filters: A newsletter that is too long is more likely to trigger anti-spam filters.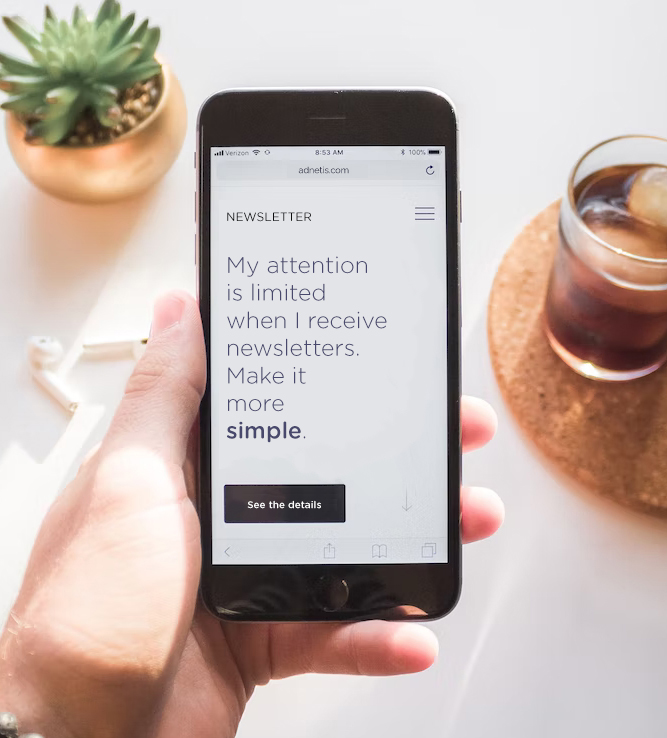 Do you aim for high conversion rates and want to go beyond open rates? Then you must perfect your strategy by optimizing the content and structure of your newsletters, focusing on the information that aligns with your communication objectives!
How to

optimize the length

of your newsletters?
Several techniques can be applied to your newsletters to reduce their density, both in terms of content and layout.
Here are four (4) practices to adopt in order to optimize your newsletters to the reality of your contacts:
1. The importance of

the outside

in conveying your message!

Do you think reducing the density of your newsletters is simply about cutting down on your text? Actually, it is often more challenging to synthesize information than to write an essay!
In addition to reducing the text in your newsletter, you need to synthesize your email subject lines and increase the character count in your preheaders while simplifying your calls to action.
– Between 28 and 50 characters
Your newsletters are not always opened by your subscribers. The subject line will be quickly analyzed by your contacts to judge its relevance. Your challenge is to mix conciseness and impact to get your target audience interested while avoiding spams words.
The quality of your email subject line will determine whether your newsletter is archived or opened.
– Between 40 and 130 characters
The preheader of an email is the small text that appears below the subject line of your newsletter in the inbox. Similar to the subject line, the header summarizes the content of the newsletter and should provide a preview to the subscribers. Your preheader should contain no less than 40 characters. Why? If the text is too short, the email inbox will display the first few words found in the body of the newsletter.
The longer your preheader, the better it will appear in the inboxes.
– From 2 to 5 words

Did you know that after quickly scanning the visuals and headlines, your subscribers are looking for calls to action in your newsletter? Instinctively, they want to know what your objective is. They are naturally inclined to do more than just read your newsletter. You must create clear calls to action and place them prominently at the top of your newsletter.
Your ability to synthesize your calls to action will determine whether there is conversion towards your objectives.
2. Tailor

the inside

according to your target audience and industry!

The ideal length of a newsletter is not a fixed value, but rather a measure that is calculated based on several variables such as the type of communication (sales vs informational), the audience (B2B vs B2C) and the industry (retail vs services).
Let's look at some concrete examples:
– Commercial (sales) = shorter
Is your newsletter sent with the intention of driving conversions and sales?
Summarize your introductory texts.

Focus your message on 1 featured product.

Direct your subscribers to your website based on different product categories you offer.

Keep your newsletter to a length of 2 mouse scrolls maximum.
– Commercial (informational) = longer
If your communication focus is to maintain a post-purchase relationship with your contacts by providing information about your services:
Your texts can be longer.
You can cover multiple topics in a single newsletter by introducing each of them.
Include a call to action for each topic directing to secondary pages related to each topic discussed.
However, still limit the length to an acceptable level and segment your content across multiple newsletters.
– B2C = longer
Your target is the general public?
You can design long newsletters if they are primarily informative.
In that case, use a structured layout for the different topics.
Opt for medium-length newsletters if it is a sales-oriented correspondence.
In any case, make sure to use short and representative titles for the content.
– B2B = shorter
Are you sending your newsletter to subscribers in a professional setting?
Be more concise. They have less time to dedicate to your newsletters.
Write short sentences and redirect to a secondary page with all the information.
Ideally, the core of your newsletters should fit on a standard screen without needing to scroll.
Do not rely solely on images. Many B2B recipients have to enable images in their inbox.
– Quick purchase = shorter
Does your product not require much deliberation before making a purchase?
Synthesize the content of your newsletters by focusing on your call to action.
Prioritize short newsletters that serve as teasers leading to a landing page related to the topic discussed.
Use email subject lines written in a popular language.
Maintain frequent communications that require minimal attention from your subscribers.
– Thoughtful purchase = longer
Does the purchase process for your product require some time for reflection?
Write short texts containing a set of representative keywords that clearly define the product.
Create longer newsletters but categorize the topics by section.
Use a key representative image and supporting images for each secondary section.
Display the calls to action in a concise and prominent manner.
3. Control the length with

creativity

Your newsletters are not physical letters, which means they do not have to be read from top to bottom only!
Take advantage of the available resources such as graphic designers, infographic designers, and multimedia integrators.
They will help optimize the final layout of your newsletters, ensuring that information is well organized.
They can suggest methods to condense information and create shorter newsletters.
Make good use of the editing sections to creatively arrange your texts and images.
Create a well-structured layout where different topics are segmented thoughtfully.
Use columns and vary the arrangement of elements while maintaining some coherence.
Not sure where to start? Seek help from experts!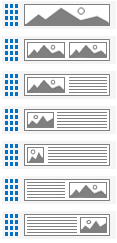 4. Be

attentive

to your subscribers!

Aiming for the pinnacle of newsletter length?
Listen more to the response of your contacts. Do not rely only on market studies. Make your own deductions because you operate in a constantly evolving market that is unique to you.
Trust your statistics and adapt your newsletters based on A/B testing in order to personalize your content according to your different types of subscribers and their interests!
Systematically analyzing your delivery results is an excellent way to determine if your newsletters are too long.
If your newsletters have a satisfactory open rate but a low overall click-through rate, you may have too much text!
If you have a multitude of clicks, you may have too many links and the primary calls to action are not sufficiently highlighted.
If you have multiple sections in your newsletter and you notice a significant decrease in clicks on the calls to action located at the bottom of your newsletters, divide your content among multiple newsletters. This will allow you to achieve more conversions toward your goals.
Unsure about the ideal length for your newsletter? Try a double approach:
Create two versions of your newsletter: a short version and a long version.
Segment your database and send each version to two groups of subscribers with similar interest profiles.
Analyze the results to determine which version resonates more with your audience and generates better engagement.
Do you offer a wide range of products and services? Do all your subscribers have the same interests? Understanding your contacts based on their interests can significantly reduce the length of your newsletters.
Segment your database based on the lifecycle of each customer.
Remove contacts from a specific list after a purchase to avoid sending them a newsletter for a product they have just purchased.
Ask your audience about their interests and verify that their needs have not changed.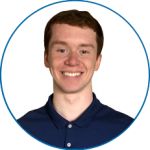 Want professional advice?
Young and dynamic, Jérémy knows the new media and the potential of a successful email marketing campaign.


Get more details on the ideal length of a newsletter by contacting him now! He will be able to offer you innovative and creative solutions for your email marketing campaign.


E: jbergeron@adnetis.com
P: 1-877-638-6584