What's the most annoying thing about email marketing?

When bad data creates a poor experience
By now, brands should know that email marketing campaigns have to be personalized and relevant to resonate with recipients. But personalization is only as effective as the data that powers it, and when that data is wrong, consumers can find the missives downright irritating.
A July 2017 survey of US business professionals conducted by Advanis for Adobe found that almost a quarter (24%) of respondents said they were annoyed by emails that indicated marketers had incorrect data about them.
The survey also showed that 20% of respondents found it annoying when emails urged them to buy products or services that they had already purchased—a symptom of outdated information and a lack of real-time analytics on the brand side.
And sometimes brands just don't dig deep enough with their personalization efforts. According to Adobe, 34% of respondents named recommended items that don't match their interests as the most frustrating way email personalization failed.
However, many marketers appear to have the knowledge to fix these issues. An April 2017 survey of US marketing executives by The Relevancy Group for OneSpot found that 65% of respondents thought using dynamic content in email marketing was an effective way to drive relevancy. In addition, 60% said the same about using real-time data to personalize email content.
But adopting these solutions usually means overcoming financial and organizational obstacles. According to The Relevancy Group/OneSpot survey, 44% of respondents said a lack of internal buy-in from stakeholders made better email marketing personalization difficult. And for more than a quarter of those polled, email personalization was simply not a budget priority.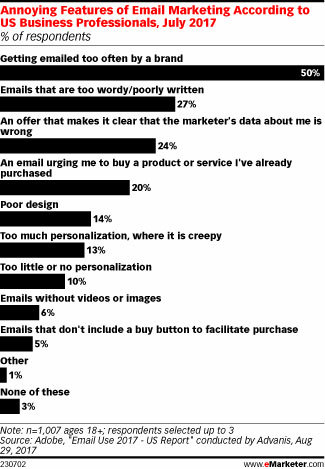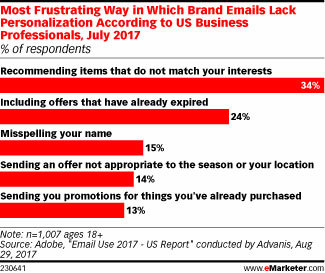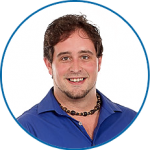 Want professional advice?
Email-based communications strategies are no secret to this email software specialist. When ever you have questions about emailing strategies or how to get to a certain design goal, he his there to handle the situation.
Get more details on what's the most annoying thing about email marketing? by contacting him right now! He will be able to offer you innovative and creative solutions for your email marketing campaign.
E: fsauve@adnetis.com
P: 1-877-638-6584