What's the right time to send your emails

Engaging your customers without flooding their inboxes is the key!
HOW TO FIND THE RIGHT BALANCE BETWEEN ENGAGING AND EXCESS?
Discover how marketers are planning their mailing schedules and what kinds of campaigns they are doing to overcome this puzzle.
A recent survey by Coherent Path reveals how marketers are sending emails. For one thing, they give a lot of weight to what worked last year (85% of respondents). A slightly higher proportion (87%) slot in major holidays and events. 
Most of the retail marketers surveyed realize the risk in overwhelming their customers with too many emails. About 43% of respondents said they send one to two emails per week, while 46% said they send three to four. The reason why: email is such a powerful tool, marketers are being pressured by their companies to do more campaigns. In fact, 11% of respondents reported sending five or more emails a week … which is to be avoided!
In many ways, discounts and promotional offers seem to drive email marketing campaign success. The recipient will be more willing to open the email received if it has any kind of advantage. Emails sent at a good frequency and presenting an exclusive offer, will promote customer loyalty while converting a maximum of revenue generated by this marketing action.
Three in four marketers in Coherent Path's survey cited the use of promotions to drive revenues as a source of influence when planning their email calendars. Almost a third of respondents said between 50% and 75% of the emails they send include promotions. And one in 4 retail marketers said that more than 75% of their emails include some type of discount.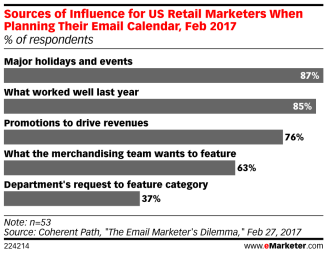 While many retail marketers are succeeding with their email marketing tactics, there's still room for improvement!
Personalization has received a great deal of attention in the industry. However, only half of respondents said they personalize email messaging based on a customer's prior email activity. While finding the perfect recipe for a successful email marketing campaign can be tricky, there's good reason for retailers to invest in email marketing: Email has been proven to provide marketers with some of the highest returns of any digital marketing channel.
A recent survey by DMA and Demand Metric a also found that email's median ROI, at 122%, was overwhelmingly higher than social media (28%), direct mail (27%) paid search, (25%) and online display (18%). Another survey of US marketers from the New York American Marketing Association (NYAMA) and BrandSpark mirrors that finding: Email was rated as the marketing channel with the greatest ROI.
You can count on ADNETIS to guide you in your email communications strategy. Benefit from our 15 years of experience to answer your questions such as, when to send your emails, how often and with what content!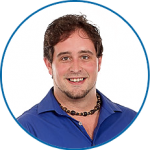 Want professional advice?
Email-based communications strategies are no secret to this email software specialist. When ever you have questions about emailing strategies or how to get to a certain design goal, he his there to handle the situation.
Get more details on what's the right time to send your emails by contacting him right now! He will be able to offer you innovative and creative solutions for your email marketing campaign.
C : fsauve@adnetis.com
T : 1-877-638-6584