Marketers push personalization most on email and websites

Dynamic, personalized content is making email a more relevant channel
With increasing access to marketing data, practitioners are able to refine their personalization efforts more and more. And well over half of US marketers are carrying this out through their emails and websites, according to research.
Throughout April and May 2016, Evergage and Researchscape surveyed 250 marketers—primarily US-based—from a variety of industries about their personalization-related work.
According to the findings, the majority of respondents are personalizing email (67%), followed by their websites (56%). Meanwhile, mobile and web apps were the least likely channels said to be customized.
Overall, the concept of personalization is top of mind for US marketers this year, according to data released by Pan Communications in May. Personalization beat out other marketing trends like location-based marketing and virtual reality, among others.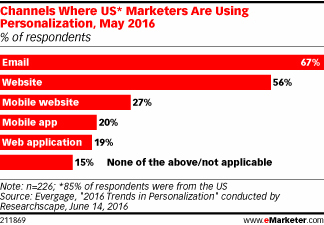 But perhaps more particularly, personalization has been tying itself well with email marketing efforts lately. Certainly not a new channel, email has recently gained greater value among other channels by incorporating more tailored and dynamic content. In fact, retailers are big on this ; creating email content that factors in gender, location, age and more.
In a separate April 2016 study, Email on Acid, a firm that focuses on email testing and analytics, uncovered that 45% or more marketing professionals anticipate implementing features like dynamic content elements and personalization this year.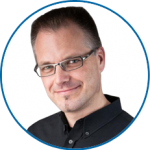 Want professional advice?
Email marketing have no more secrets for this email software specialist.
Get more details on why marketers push personalization most on email and websitesuse e-mail marketing by getting in touch with him right now! You will be able to benefit from email marketing and develop email strategies that actually works !
E: fdahlem@adnetis.com
P: 1-877-638-6584