HERE IT COMES: THE NEW GMAIL ON THE WAY
The biggest redesign of this email reception platform for desktop accounts connection is now available to 1.4 billion users around the world. If you have not yet experienced the new features, some of which will change the way your recipients will interact with your newsletters, try it today!
Dynamic and user friendly, the new graphics of Gmail propels us in 2018 with the integration of features that remind us of smartphone applications. Optimized for a better email ranking, the interface includes interesting features. The most important changes are displayed in the right portion of the interface.
The changes made by Google are so radical that it would be dangerous for them to transfer all its users at once.
To discover this one, you will have to click on your parameters

then on "Try the new version"

You will then be transferred to this new design.
From the beginning, you will immediately notice that the tabs "Main" – "Social Networks" – "Promotions" are much more visible than before. This is great news for your opening results since most of your marketing emails end up in this tab.

Your newsletters are not spam, but commercial messages, Google had to better display this category … which is successful! The name of the sender for the last email received in each section appears in the category header, which gives you more visibility.
Menu in the right portion
Here you will have noticed that a new section is displayed to the right of the interface. You will find three (3) applications: Agenda, Note and Tasks.

Les tasks:
Indeed, your subscribers are now able to assign a task to the emails you send. Whether it's to give you a call or study your offer, your recipients are able to drag and drop your email into a task.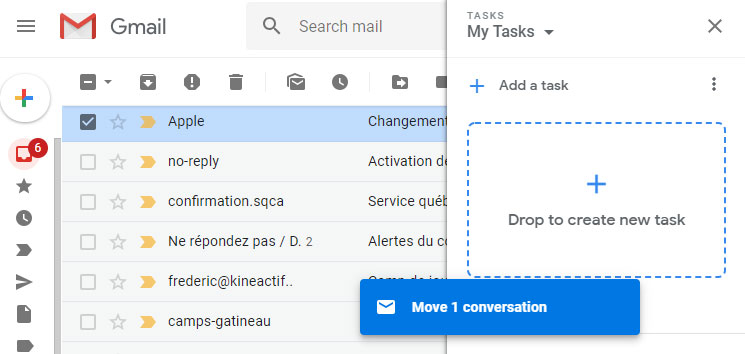 Imagine the marketing possibilities of 2018 with this feature that is all up to your advantage. The email goes much further, since your offer can be part of the daily lives of your customers.
The agenda :
Here, we draw your attention to the electronic agenda by inviting you to move your arrow over the name of an email address name. You will notice the three (3) small icons that appear, including the one connected to the agenda. By selecting this one, you will notice a significant marketing advantage.

When receiving your newsletter, subscribers can now add it to their calendar. Whether it's an event date, communicating with you or discuss your offer with colleagues, your recipients have the opportunity to interact with your offer. Your message will be added to the calendar in the right portion of the interface.
Google's goal is to give users real control and Gmail is no exception. From now on, it"s possible form Gmail users to send back an email to receive it back on a chosen date and time.

The title of your newsletter become therefore really important. User can send back your email within two clicks. This action can be accomplished even before reading which means that our systems are not able to detect the opening, or at least not at the time of delivery.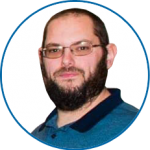 Software developper specialist
Want professional advice?
The deployment of new features in our email marketing software is overseen by this application programming interface (API) specialist.
Get more details on Gmail new interface by contacting him right now! He will be able to assist you in a special project management tailored to your business needs.
E: strepanier@adnetis.com
P: 1-877-638-6584