Mobile and targeting drive up email opens

Mobile conversion rates still somewhat depressed.
Nearly one in three emails sent in North America during Q1 2013 were opened—the highest number in recent history. Mobile device adoption and the use of marketing automation to send more targeted emails are having among the biggest impacts on email performance, according to a new eMarketer report, "Email Benchmarks: Key Metrics and Trends for 2013."
A February 2013 survey from enterprise email service provider BlueHornet showed that 71.8% of US email users ages 24 to 40 said they typically read their personal email throughout the day. Mobile plays an undeniable role in enabling consumers to check email from anywhere and at any time of day.
Data from marketing software provider Knotice showed mobile phones and tablets accounted for a combined total of 41.1% of US email opens in H2 2012, up from 27.4% in H2 2011.
Some marketers and email solution providers have recorded even higher open rate shares. Pam McAtee, Epsilon's senior vice president of digital solutions, said mobile now accounts for 60% or more of all opens for most clients. She expects that percentage will continue to climb before plateauing at around 70% to 80%.
"We're tracking consumers opening [emails] multiple times on multiple different types of devices," McAtee said. "We can see that they opened an email on a mobile device and then on a desktop, predominantly in that order. They're using mobile devices to sift through their email and clean up their email, and then they're going back to a desktop and converting."
Though open rate performance suggests an increased level of initial engagement with email, additional data from Experian Marketing Services showed measures more indicative of conversions declining between Q1 2012 and Q1 2013. Click-to-open rate dropped 9.6% year over year, and transaction-to-click rate fell 15.6%. However, average order size increased about $23, suggesting fewer clicks resulted in purchases, but that those purchases were more substantial.
Marketers like Andrew Kordek, co-founder and chief strategist of email marketing agency Trendline Interactive, said mobile's lack of effect on conversion-focused measures is indicative of consumers' overall lack of confidence in purchasing via mobile devices.
To drive greater engagement with email, whether on desktop or mobile, companies are using marketing automation via triggered messaging. Triggered emails enable marketers to use automation to respond to a user-prompted action or behavior. Consumers opened one out of every two triggered emails in North America in Q1 2013, according to Epsilon.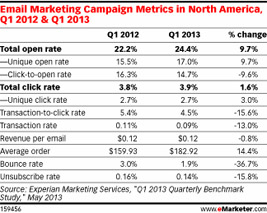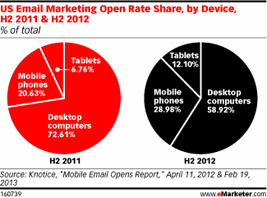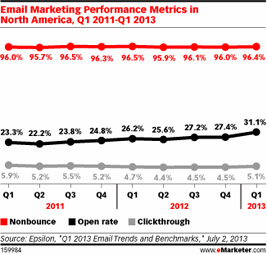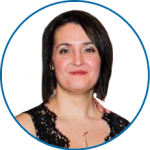 Want professional advice?
The management of a email marketing projet begins with a thorough knowledge of the email software. Working with ADNETIS for 10 years, she sure knows what she's talking about !
Get more details on how mobile and targeting drive up email opensell-timed emails can affect a variety of brand goals by getting in touch with her right now! She will be able to assist you in the deployment of your email marketing campaign.
E : mgosselin@adnetis.com
P : 1-877-638-6584