Comparison with MailChimp

We are often compared with MailChimp
DID YOU KNOW THAT WE OFFER A FREE ACCOUNT WHICH ALLOWS YOU TO SEND AS MANY EMAILS AS YOU WANT UP TO 250 RECIPIENTS ON A MONTHLY BASIS?
Since I started with the price, when you go over the limit of the free account, do you know that with the exchange rate between the Canadian and American dollars, ADNETIS is cheaper than MailChimp?
Do not hesitate to make the comparison! The prices are available on the websites, but do not forget to select the same currencies.
Now that we agree on the price, there are other advantages that distinguish us from MailChimp, I think about the "local" aspect. The ADNETIS email marketing software was developed and design in Canada (Quebec) by software specialists from our homeland.
Of course, the support is provided by a local team in our head office located in Canada (Quebec). Customer service can be reached directly by telephone, which could be a big deal when you need help now. In other words, we are close to you. We listen to our customers and this is how we improve our email marketing software. We also provide newsletter production services if needed!
With email, also comes laws like the Canadian Anti-Spam Legislation (CASL). As Mailchimp is a multinational, they have integrated a general anti-spam law enforcement process across all countries unlike us who have adapted our software to the CASL. We manage different types of consents (express and implied) according to the terms and principles imposed by this Canadian law.
There is also one of our service that come to mind that you will not find at Mailchimp. We offer kick starter package to better help our customers open and setup their account for further campaign performance as well as creating their first email sending, analyzing the statistics to help them improve future e-mail deliveries. This service includes advices on how to comply with Canada's anti-spam legislation.
When we talk about anti-spam legislation, we also think about delivery rates and the data security of the subscribers. Unlike our American competitors like MailChimp, our servers are based in Canada (Quebec). Your subscribers data are not collected by the NSA according to the revelations made by the security consultant Snowden in 2014 (https://fr.wikipedia.org/wiki/Edward_Snowden)
There are certainly many advantages over MailChimp like:
– the bilingual management; enable you to send a single newsletter with two sides, one in each language. Subscribers receive the email in their preferred language.
– secondary pages; letting you add pages as you would do on a website. A great tactic to send exclusive content or add a video in your newsletters.
– great statistics that let you track your contacts individually, even furthermore on your website
– Outlook APP that allows you to add subscribers directly to your lists from Outlook …
I'm not saying that MailChimp is a bad email marketing software, but it's often an advantage to work with tools that have been design locally by specialists who have the same concerns as you.
François Dahlem

President and marketing director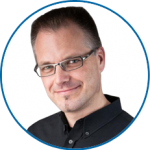 Want professional advice?
Email marketing have no more secrets for this email software specialist.
Get more details on the comparaison between ADNETIS and Mailchimp by getting in touch with him right now! You will be able to benefit from email marketing and develop email strategies that actually works !
E: fdahlem@adnetis.com
P: 1-877-638-6584