Research suggests email marketing beats just about everything for ROI
Email is a tried and true digital marketing tactic—so true that respondents to an April 2015 survey indicated that email alone accounted for as much in revenues as all other types of digital advertising combined.
According to The Relevancy Group's findings, US marketing executive believe that email alone drives the same amount of revenue as their social media, website and display ad efforts combined.
If anything, email drove a greater share of overall revenue.
Just under one in four respondents (23%) said that email marketing drove at least 25.1% of their overall revenues. The exact same number of respondents said that 25.1% or more of their overall revenues were attributable to other digital marketing efforts.
Another 42% of respondents said email drove between 10% and 25% of their revenues; 36% said the same revenues were attributable to other digital marketing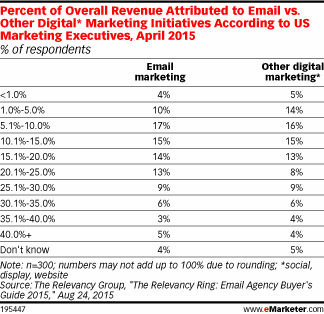 And on the low end of the range, 31% of marketing execs said email drove less than 10% of revenues. Somewhat more, 35%, said other efforts accounted for so little.
For North American retailers, email-related revenues may be dropping, though there is also evidence that the channel continues to be a powerful one.
Eultancy found in February that email marketing was rated effective by more agency marketers than any other channel. Among client-side marketers, organic search was rated higher, but email was still the No. 2 channel, with 66% support.
A January 2015 survey by Demand Metric and the Direct Marketing Association (DMA) also found higher ratings for email's ROI than for any other channel or format studied.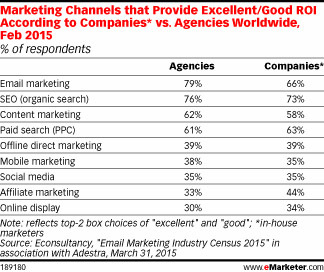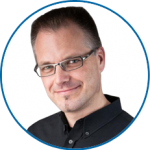 Want professional advice?
Email marketing have no more secrets for this email software specialist.
Get more details on how much revenue does email drive by getting in touch with him right now! You will be able to benefit from email marketing and develop email strategies that actually works !
E: fdahlem@adnetis.com
P: 1-877-638-6584