Have you ever wonder if your data was protected against NSA spy programs?

Ten years ago, companies were very restrictive to host their data outside the company.
With the evolution of cloud computing, businesses have become less and less restrictive. On the other hand, they also became less suspicious about their data. We do not question the positive contribution of cloud computing, but businesses need to be alert of some dangers related in having their data in the cloud.
In an era where you must show the color of your underwear at the airport. In a time where computer servers and disk space have become cheap. Organizations are also taking advantage of the situation to capture the maximum of information and spying.
You have all heard of former National Security Agency (NSA) consultant Edward Snowden. He revealed that the NSA practices consist of (and not consist of) massively collecting all types of data and not conducting targeted surveillance against specific targets.
At first, his revelations were stirring all the world secret services and like me, you probably didn't feel really concerned. Except that in recent weeks, it's the big players like Facebook or Google who make media appearance directed against the practices of the NSA. Why ?
Because Mark Zuckerberg (the founder of Facebook) and Larry Page (the boss of Google) see the negative impact on their business regarding NSA relationship. As part of its massive data collection, the NSA has access to data from major US Internet companies and therefore owns YOUR data. In other words, your Facebook profile with your personal and professional relationships, your restricted photos, your searches on Google … everything has been recovered by the US government.
There, we feel more concerned!
Big deal, but what does this Facebook and Google thing has to do with your business? Well, if you store your customers data on cloud server located in the US, you're in the same situation as them. Your customers give you private information an thrust you company. Thus, can you promise them that you don't share their information if you use a CRM service based in the US? Did you even look at where your data are located? Probably not…
This raises some questions. Are Canadian companies sufficiently protected if they use the services of US companies? For some services like social networks and search engines (Facebook, Twitter, LinkedIn, Google …) companies have no choice to use them, especially if they are active in terms of marketing. But for other Internet services that also exist in other countries, it may be wise not to use US companies to protect themselves from the spy programs set up by Washington.
Maybe all governments do the same. But today, we are sure that the US government is doing it, so let's start taking steps to protect against it.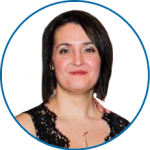 Want professional advice?
The management of a email marketing projet begins with a thorough knowledge of the email software. Working with ADNETIS for 10 years, she sure knows what she's talking about !
Get more details on if your data was protected against NSA spy programs by getting in touch with her right now! She will be able to assist you in the deployment of your email marketing campaign.
E : mgosselin@adnetis.com
P : 1-877-638-6584