Facebook dominates social logins

INDUSTRY SOURCES PUT FACEBOOK'S SHARE OF SOCIAL LOGINS BETWEEN 63% AND 72%.
Is there anywhere Facebook doesn't rule? According to recent data from Gigya, the social network expanded its share of social logins worldwide during Q1 2015, when it accounted for 63% of the total. Google+ was the only other social network that "has maintained a sizable share of logins," though this "sizable" proportion was just 21% in the first quarter of this year. Notably, Twitter passed Yahoo in share, at 6% vs. 5%. Gigya noted that Yahoo "has all but disappeared as an identity provider." LinkedIn accounted for 2% of the total.
Analysis by LoginRadius, which looked at slightly different networks, revealed similar results. Here, Facebook was the most preferred social network for logging in to a website, with a 72% share in Q1 2015—up from 65% in Q4 2014. Again, Google+ trailed in a distant second, at 20%. No other site came close; Twitter accounted for 3%, LinkedIn for 2% and Yahoo for an even lower 1%.
Social login usage was highest among users ages 18 to 24 and 25 to 34, with respective portions of 30% and 28%. Share dropped to 21% for both the 35-to-49 and 50-and-older brackets. However, a pattern had emerged over the past several quarters that indicated social login adoption was rising slightly among older users as the younger two groups lost share.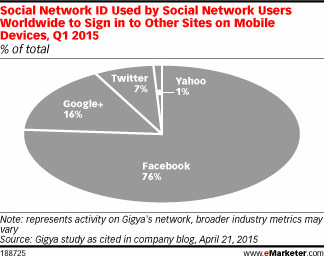 In Q1 2015, LoginRadius found, females surpassed males in social login share, at 57% vs. 43%. This represented a major change from two years earlier, when men grabbed a far larger proportion than women, who closed the gap in 2014.
While the desktop remains the device of choice for social logins, accounting for 57%, vs. 43% for mobile, LoginRadius' data showed an obvious shift in usage over the past two years. And Facebook had an even stronger hold on mobile devices, representing nearly three-quarters of social network IDs used by users globally to sign in to other sites via smartphones and tablets, Gigya found. Second-place Google+ trailed by 60 percentage points, followed by Twitter at 7% and Yahoo with an almost nonexistent 1%.
eMarketer estimates that there will be nearly 2 billion social network users worldwide this year, and 80.6% of these users will log on via mobile phones. Fully 62.4% of social networkers globally will use Facebook in 2015, and 70.1% of Facebook's user base will access the site on mobile phones.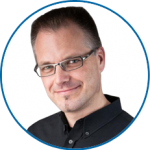 Want professional advice?
Email marketing have no more secrets for this email software specialist.
Get more details on why Facebook dominates social logins by getting in touch with him right now! You will be able to benefit from email marketing and develop email strategies that actually works !
E: fdahlem@adnetis.com
P: 1-877-638-6584