More than half of emails worldwide are read on a mobile device

The world of email marketing has changed pretty significantly over the past five years.
DESKTOP CLIENTS LIKE OUTLOOK WERE ONCE A MORE IMPORTANT DELIVERY MEDIUM.
Now, readers of email are now in the thrall of mobile clients and webmail services like Gmail. In fact, new research from Return Path found that more than half of emails worldwide (55%) are opened in a mobile environment in 2017, significantly more than either webmail (28%) or desktop (16%).
Mobile has emerged as the dominant email environment since Return Path last conducted its survey in 2012, when only 29% of emails were opened on a mobile device, and webmail clients were the most popular method of accessing such electronic missives.
Return Path also found that Apple's iOS was dominant among mobile email users worldwide, with 79% of mobile emails opened on either an iPhone or iPad this year. While only 20% of emails were opened on a device running Android, that was actually an increase of 6 percentage points from 2012's figure.
Email's maturity as a marketing channel is reflected in its plateaued user rate in developed markets like the US. eMarketer estimates that there will be 248.2 million US email users this year, equating to a penetration rate of 76.0% among the overall population. Those figures are set for marginal increases to 266.3 million users and 79.0% penetration by 2021.
But email still remains a favorite channel among US marketers, according to a survey from the Data & Marketing Association (DMA) and Demand Metric from earlier this year. The study found that at least 88% of marketers in nine different verticals still relied on email to reach their target audiences.
Consumers usually have a positive disposition toward email, likely because it's a form of opt-in communication that gives users some measure of control over how they are messaged. But brands and others seeking to connect with these audiences also need to take care not to abuse the channel by overcrowding inboxes.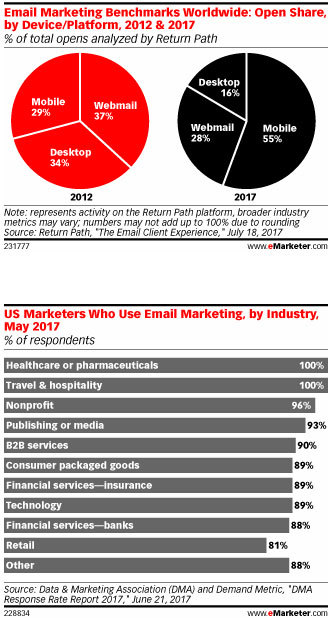 According to eMarketer's email marketing performance benchmarks, based on data from Cheetah Mobile, email's click-to-open rate in North America has seen a slow decline over the past year, dropping from 10.9% in Q2 2016 to 9.7% a year later.
However, the transaction-to-click rate increased over the same time period, jumping from 3.4% in Q2 2016 to 4.0% in Q2 2017.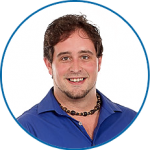 Want professional advice?
Email-based communications strategies are no secret to this email software specialist. When ever you have questions about emailing strategies or how to get to a certain design goal, he his there to handle the situation.
Get more details on why more than half of emails worldwide are read on a mobile device by contacting him right now! He will be able to offer you innovative and creative solutions for your email marketing campaign.
E: fsauve@adnetis.com
P: 1-877-638-6584