Email continues to deliver strong ROI and value for marketers

The email audience is growing, engaged and increasingly mobile
Despite whisperings of its decline in recent years, email remains a growing, go-to channel for marketers. However, for email to continue that success, marketers must consider how and why mobile use, increases in message volume and frequency and data-driven relevancy impact performance, as explored in a new eMarketer report, "Email Marketing Benchmarks 2016: Relevancy, Frequency, Deliverability and Mobility"
A June 2016 survey of US marketers conducted by the Direct Marketing Association (DMA) and Demand Metric found that email had a median ROI of 122%—more than four times higher than other marketing formats examined, including social media, direct mail and paid search.
Agency professionals and in-house marketers worldwide are in agreement about email's effectiveness, according to March 2016 polling from Econsultancy. Both groups named email marketing most frequently as a tactic able to provide a strong ROI, at 80% and 73%, respectively. The study also found that while respondents allocated an average of 16% of their overall marketing budget to email for 2016, the program contributed to 23% of total sales, a ratio that indicates email's positive ROI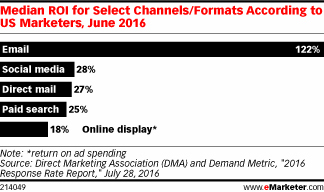 Revenue from email has also improved year over year. A survey from the Relevancy Group sponsored by PostUp found that in December 2015, 24% of US email marketers said email marketing initiatives accounted for over a quarter of their overall revenues. This percentage was up from 13% in fall 2013.
Increases in ROI have been linked to the growing size of the email user base and market penetration. eMarketer estimates that there will be 240.1 million email users in the US in 2016, accounting for nearly 89.8% of internet users and 74.1% of the population. By 2020, that number will grow to 258.9 million users.
A February 2016 survey by analytics firm Origami Logic asked marketing professionals in North America how they used marketing signals or performance measurements "that bridge the gap between raw data and insights." Nearly a quarter of respondents measured and analyzed email performance metrics weekly; 26% did so daily. Nearly a third only tracked up to three marketing signals and a quarter tracked four to six different marketing signals.
Email provider Epsilon's Q1 2016 analysis of all emails sent from its platform to recipients in North America showed open rates on the rise, at 33.3%—higher than all quarters since Q1 2014. CTR, while still on the decline overall, had recovered slightly since Q4 2015, coming in at 3.4%. Most interesting to note was the nonbounce rate (i.e., the percentage of emails delivered), which, at 95.6%, is at the lowest rate since 2014. (This corresponds to a 4.4% bounce rate.)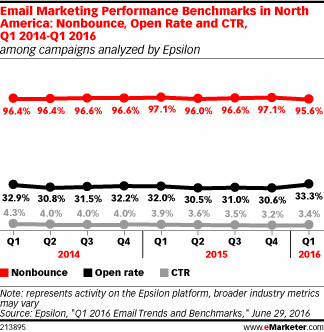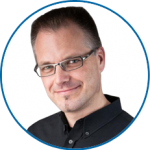 Want professional advice?
Email marketing have no more secrets for this email software specialist.
Get more details on why email continues to deliver strong ROI and value for marketershy use e-mail marketing by getting in touch with him right now! You will be able to benefit from email marketing and develop email strategies that actually works !
E: fdahlem@adnetis.com
P: 1-877-638-6584