Email promotions catch the eye in Quebec

Theater, cinema and event tickets are the most common digital purchases made by Quebecers
Internet users in Quebec aren't much different from their counterparts in other developed areas, at least when it comes to the types of online marketing and advertising they are most responsive to, according to January 2014 research from CEFRIO.
Internet users in the largely French-speaking province paid attention to email offers over all other formats, with 31% saying they did so, compared with 22% who paid attention to second-place website ads. Less than one in five respondents paid attention to social media ads, audio or video pre- or post-rolls, or search advertising.
Quebecers may differ from average web user behavior, however, when it comes to their most common digital purchases. Typically, digital buyers focus on items like books, music and movies the most—items that few people need to see and touch before buying, and which are identical to items found in local brick-and-mortar stores.
But digital buyers in Quebec reported theater, cinema and event tickets were their most common purchases, with 56% having bought them. Travel-related purchases took second place, followed by clothes and accessories.
The popularity of event tickets suggests digital buyers in Quebec may be making at least some of these purchases via mobile—the category is typically popular for on-the-go consumers looking to catch a movie at short notice, for example.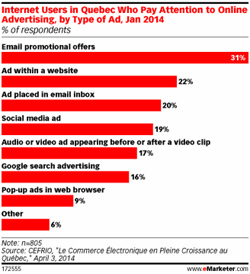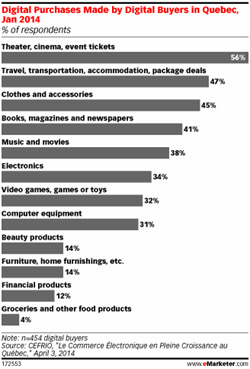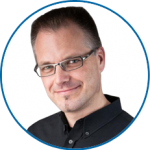 Want professional advice?
Email marketing have no more secrets for this email software specialist.
Get more details on why email promotions catch the eye in Quebec by getting in touch with him right now! You will be able to benefit from email marketing and develop email strategies that actually works !
E: fdahlem@adnetis.com
P: 1-877-638-6584