Which industries get top marks for email marketing on desktop, mobile

Variations in time spent with email marketing depends on the device
Mobile has surpassed desktop as the device used to open the greatest percentage of email marketing messages in the US, according to Movable Ink's study of emails delivered via its marketing platform. The smartphone took 48.1% of opens in Q2 2013, and the tablet took 13.8%, leaving the desktop with less than four out of 10 marketing email opens.
Android devices saw the lengthiest periods of engagement with email: 53.3% of emails opened on Android phones were read for 15 seconds or more, followed by 41.9% of emails read on the Android tablet. The iPhone was also a stronger performer—41.5% of emails saw at least 15-second engagement. The desktop outperformed only the iPad for time spent with email.
However, findings from email marketing services provider Yesmail Interactive suggest that engagement with email on mobile may be somewhat limited when measuring based on click-to-open rates. While readers clicked on 23% of emails opened on desktop in Q2 2013 in the US, only 11% did so for emails on mobile.
As for which industries have seen the most success with their email marketing programs on desktop and mobile, the study found that the hospitality and travel industry led with the greatest share of mobile opens, perhaps reflective of the high incidence of mobile device ownership and on-the-go usage among avid travelers. But even though travel saw many mobile opens, performance on mobile was less than stellar. The industry garnered a 9.0% mobile click-to-open rate vs. a 20.4% desktop click-to-open rate.
The consumer services industry saw the best mobile performance, at a 19.0% mobile click-to-open rate, along with a high frequency of emails opened on mobile. It was also a solid desktop performer, at a 30.4% click-to-open rate.
The top desktop performer overall was the healthcare industry. More than four out of 10 healthcare emails received via desktop were opened and then clicked on. Healthcare also came in second in mobile click-to-opens, indicating that overall, the healthcare industry seems to be sending highly relevant and compelling emails to consumers. On the other end of the spectrum, the financial services industry performed worst on both desktop and mobile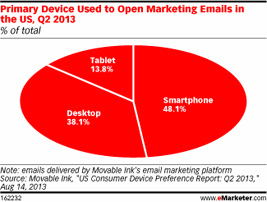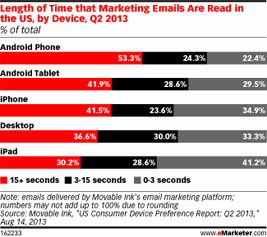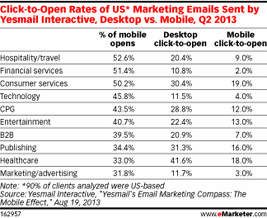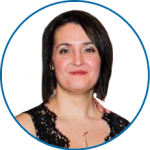 Want professional advice?
The management of a email marketing projet begins with a thorough knowledge of the email software. Working with ADNETIS for 10 years, she sure knows what she's talking about !
Get more details on which industries get top marks for email marketing on desktop, mobile by getting in touch with her right now! She will be able to assist you in the deployment of your email marketing campaign.
E : mgosselin@adnetis.com
P : 1-877-638-6584