More than 75% of consumers prefer email

Email is the preferred communication tool
FOR + 75% OF CONSUMERS, BUT NOT TOO FREQUENTLY!
Last year, it was seen as the preferred method of receiving marketing communications among UK internet users, and nothing has changed this year.
According to a February 2014 study from the Direct Marketing Association UK in partnership with customer acquisition firm McDowall, email was the preferred marketing channel among UK internet users across all age groups. From 18- to 24-year-olds through those 65 and older, email was cited by the vast majority of respondents—upward of 75% in all groups.
However, just because email is a popular marketing channel does not give marketers carte blanche to spam inboxes with persistent and generic messaging. Rather, tempered frequency and increased relevancy should be key considerations in any email campaign.
When it comes to frequency, it isn't any great surprise to learn that UK consumers don't want to see too many branded messages dropping into their inbox. March 2014 research by Redshift Research for marketing firm Sailthru indicated just how much this could turn people off. When asked about their attitudes to branded emails, the largest proportion of UK adult digital shoppers who received such messages—39%—said they'd simply unsubscribe if emails were too frequent.
However, the next most popular response indicated that respondents found emails "sometimes helpful" so long as they provided info that was of interest to them. And herein lies an opportunity to further the appeal of email marketing.
The research also asked UK adult digital shoppers how they felt branded emails could become even more appealing. The key sentiment was personalization. Recommendations based on previous shopping behaviors, personalized communications and special offers based on shopper preferences were cited by large proportions of respondents—64%, 60% and 56%, respectively.
How do you improve on a marketing channel that's already preferred by the majority? Make it more useful—and that means curbing the frequency and personalizing the message.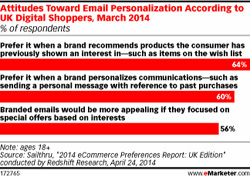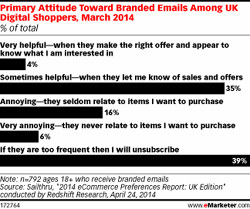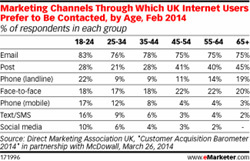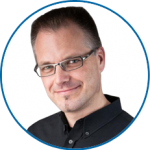 Want professional advice?
Email marketing have no more secrets for this email software specialist.
Get more details on why more than 75% of consumers prefer email by getting in touch with him right now! You will be able to benefit from email marketing and develop email strategies that actually works !
E: fdahlem@adnetis.com
P: 1-877-638-6584