One in two companies condemned to disappear within 5 years

Are you aware of the potential of your database?
For any business, regardless of their business field, database is one of their main assets in marketing. But, are we all aware of it? Do we take the right actions to capitalize it on marketing goals?
Last spring, the AMR (Association du Marketing Relationnel) conducted a study entitled 'Perceptions and attitudes of Quebec consumers regarding marketing activities'.
The study was conducted with a sample of AMR members and a sample of non-member companies. I mainly focused on the results of non-member companies and therefore a priori less aware of the issue of marketing relationship.
Among all the figures, some have particularly got my attention !
52.3% of companies regularly update their customers information in their database.
This means that 47.7% of companies do not update information about their customers. How do they stay in touch with their customers if they do not know them?
In the current context where information is becoming more and more important, isn't a suicidal behavior? In my opinion, this figure indicates that one in two businesses is doomed to disappear within five years if they don't change their habits.
Only 68.2% of companies that update their database information actually use it!
What are others doing?
In other words, 31.8% of companies did setup a mechanism to update their database for pure pleasure.
They have done the hard work without getting the rewards. Without a doubt, many business opportunities where'd lost! I suppose these companies are making huge profits and considering using their database when profits fall. But will it be too late then, because relationship marketing is built gradually to win the customers trust and interest.
12.8% of companies use data mining to upgrade database.
I am very surprised by this very low figure! It shows that not every marketer is aware that it's important to know their customers. Software exists for a reason. It's come easy to analyze and segment customers according to parameters offered in software tools. That should lead to a better customers preferences knowledge to be able to solicitate them more effectively.
23.3% of companies are using marketing tactics without having their customers consent.
In the context where information circulates very quickly and where the consumers knows their rights, one in four companies allows themselves to communicate without permission. This kind of behavior can put their brand reputation at risk. There are other ways to avoid paying taxes!
In 2007, 67% of the companies that did the relationship marketing, did it internally. The resources dedicated to these projects might not have all the necessary knowledge to avoid these kinds of marketing traps. In my mind, that might be a factor. Thus, these companies must react very quickly before it's too late.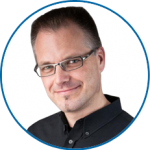 Want professional advice?
Email marketing have no more secrets for this email software specialist.
Get more details on why one in two companies condemned to disappear within 5 years by getting in touch with him right now! You will be able to benefit from email marketing and develop email strategies that actually works !
E: fdahlem@adnetis.com
P: 1-877-638-6584