Canadian email spendings continues to grow

Email ad spend continues double-digit growth in Canada
EMAIL AD SPENDING IN CANADA TOTALED CA$21.8 MILLON ($17.1 MILLION) IN 2015.
The death of email marketing has been prophesied for much of the last decade. At one time spam looked as if it might prove fatal, turning many consumers against email advances from brands. Also, newer forms of digital marketing—social media, video—promised a more contextual engagement with consumers, as explored in a new eMarketer report, "Canada Email Marketing: Reports of Its Demise Have Been Greatly Exaggerated."
The introduction of Canada's Anti-Spam Legislation (CASL) was another impediment to wary email marketers, at least initially. The law has had a major impact on how marketers manage lists, with strict rules relating to consent and unsubscribe tools. But CASL also resulted in cleaner lists, which are now delivering improved performance. That development, and the fact that email remains a trusted and proven channel for marketers, points to a surge in new email marketing investment.
In 2015, email ad spending in Canada reached CA$21.8 million ($17.1 million), up 14.8% from 2014. This year, that figure will climb 10.0% and see steady growth through 2020. (This estimate includes banner ads and links that appear in internet-based publisher newsletters or sponsored email campaigns delivered to these audiences.)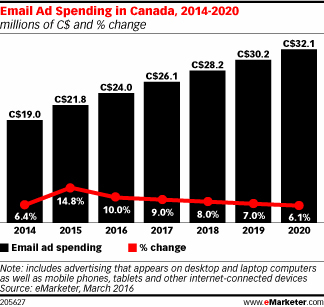 However, paid email campaigns are a relatively minor part of the email expenditure story. Spending on permission-based email marketing—the cultivation of opt-in lists and the regular communication to those lists—is where most of the investment is happening. The ESP software market constitutes a much larger segment than the paid email alternative. Based on several interviews with key industry players, eMarketer estimates that spending on ESP services is more than twice the amount of paid email advertising, or approximately CA$50 million ($39.1 million) annually.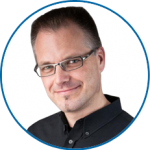 Want professional advice?
Email marketing have no more secrets for this email software specialist.
Get more details on why Canadian email spendings continues to grow by getting in touch with him right now! You will be able to benefit from email marketing and develop email strategies that actually works !
E: fdahlem@adnetis.com
P: 1-877-638-6584