Avoid the trash can! When to send emails?

Saturdays boast highest open rates, average order sizes
Email open rates improved again this year, thanks to consumers' ever-growing use of mobile devices to manage their inboxes. Yet key benchmarks such as click rate and transaction rate continue to decline. As it gets harder to cut through the inbox clutter, email marketers increasingly seek new ways to upgrade the relevancy of their communications, according to a new eMarketer report, "Email Benchmarks 2014: Richer Data, Mobile Optimization Crucial for Greater Relevancy."
The majority of marketers opt to send emails during the week, but marketers switching their send day to Saturday could see higher open rates and average order sizes.
Thursdays saw the highest volume of US email sends in January 2014, according to marketing analytics and competitive intelligence firm TrackMaven. Tuesdays and Wednesdays were equally busy, while both Saturday and Sunday saw the lightest volume.
But Q4 2013 data from Experian Marketing Services suggests that perhaps when faced with fewer emails, consumers may be more likely to engage and shop. The marketing services firm found Saturday had the highest open rates and average order sizes compared with all other days. Sunday had the highest click rate and revenue per email averages, but the lowest order amount.
Time of day definitely plays a role in affecting key email marketing measures, but there is no one silver-bullet time for improving benchmarks across the board. In fact, findings suggest that oftentimes, key measures such as unique open rate and average order size are at odds.
Analysis of emails sent during Q4 2013 by Experian Marketing Services showed emails sent during the nighttime hours of 8pm to 12am saw the highest unique open rates, click rates, transaction rates and revenue per email. However, buyers interacting with email sent during this window were less likely to spend: The average order size was $162, vs. $180-plus for emails sent between the hours of 8am and 8pm. Interestingly, emails sent during that 12-hour block saw lower unique open rates, unique click rates and transaction rates, suggesting marketers might have to consider a tradeoff between these measures and average order size.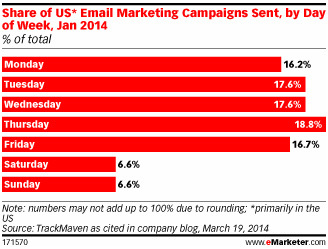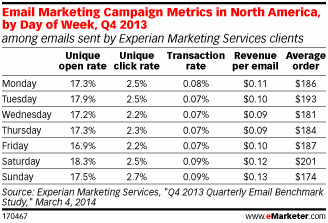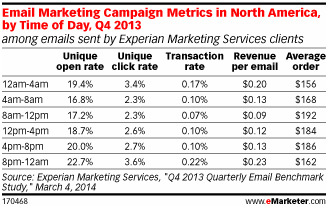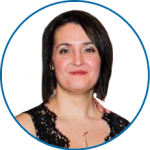 Want professional advice?
The management of a email marketing projet begins with a thorough knowledge of the email software. Working with ADNETIS for 10 years, she sure knows what she's talking about !
Get more details on when is the best time to send emaisl and avoid the trash can  by getting in touch with her right now! She will be able to assist you in the deployment of your email marketing campaign.
E : mgosselin@adnetis.com
P : 1-877-638-6584