Are you happy with your email list size

Creating relevant and valuable content is the top obstacle to email list growth
List growth remains a top focus among marketers as they continue to boost email efforts. Fully 67% polled in January 2015 by Ascend2 said email list growth was very important to the overall success of their marketing program, while almost all other respondents (29%) agreed that it was at least somewhat important. However, the study found that it wasn't always smooth sailing when it came to increasing email list size.
Marketers ranked content relevance and value as the top obstacles to email list growth, at 44% of respondents. This is especially critical now that consumers are demanding personalized emails; they're not going to waste their time on canned messages of little to no interest. Skill sets were another issue; 43% of marketers faced challenges with list growth expertise, and 39% had problems with forming an effective strategy—yet only 42% outsourced any of their email list growth tactics. Around four in 10 respondents had problems with email list hygiene and accuracy—something that, when cleaned up, can decrease list size but help boost other metrics.
The most effective tactic for executing email list growth was one of the easiest, too: 43% of marketers said prompting website visitors to opt in to company emails was effective, and just 16% said this was the most difficult. Content downloads were the second most effective tactics for increasing email list size, close behind at 42%.
On the flipside, social media sharing was the most difficult tactic for executing email list growth, at 40%, This makes the 29% who said it was effective look impressive, especially considering it trailed least-difficult upcoming events in the effectiveness category by just 1 percentage point. Paid search campaigns were the second most difficult, cited by a close 39%.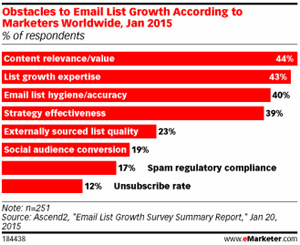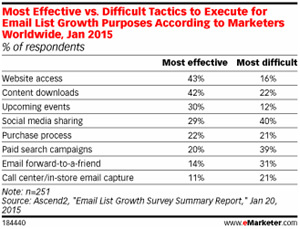 Nearly half of Ascend2's respondents said increasing email list size was a top objective for the year ahead; however, results from November 2014 polling by Salesforce Marketing Cloud indicated that what happens after consumers sign up is more important. Here, just 21% of marketers worldwide looked at list growth rate to measure email marketing success. Clickthrough rate (47%), conversion rate (43%) and click-to-open rate (38%) were at the top of the list, and unsubscribe rate was even more important, at 23%.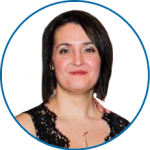 Want professional advice?
The management of a email marketing projet begins with a thorough knowledge of the email software. Working with ADNETIS for 10 years, she sure knows what she's talking about !
Get more details on why creating relevant and valuable content is the top obstacle to email list growth by getting in touch with her right now! She will be able to assist you in the deployment of your email marketing campaign.
E : mgosselin@adnetis.com
P : 1-877-638-6584