Testing 1, 2, 3? Not Email Subject Lines?

About one-quarter don't split-test any email subject lines!
We'll say it again: Email is here to stay. All email marketers want opens, clicks and conversions, but to get there, they need something to draw in readers—that's where subject lines come in.
How can marketers make sure they're using the best words to make a first impression—and avoid getting stuck in a subject line rut? Split-testing. But while marketers polled worldwide in October 2014 by Howling Mad ranked subject lines among the top elements that affected the response rate of an email campaign, few conducted split-testing.
According to the study, about one-quarter of marketers hadn't tested any of their email campaign subject lines in the past month, and around half had only conducted subject line testing on a few of their campaigns. This left fewer than 30% of respondents who tested most or all.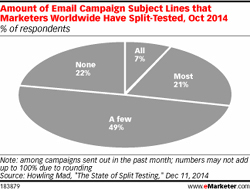 When they do split-test, marketers aren't going all out. Around 70% only tested A/B splits, compared with 14% who looked at three or four subject lines and just 2% who looked at more than five. While Howling Mad noted that this was still better than nothing, it also said marketers may not be making the most of their opportunity to split-test.
After split-testing comes measurement, and open rate was far and away the most common metric for determining the best subject line, used by around eight in 10 respondents. Half of that total used click-to-open rate, the second most popular metrics, and 35% used click rate or conversion rate. But once again, Howling Mad pointed out an issue here, suggesting that longer-term analysis should replace short-term results like opens when it comes to forming an actual subject line strategy.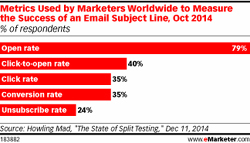 As marketers funnel dollars into email this year, one would think they may be interested in adopting some of the new technology available to maximize results. However, data released in December 2014 by Campaigner found that this was the last thing on most of their minds. When asked about their top email marketing priority in 2015, just 13.7% of marketers in North America said it was to increase use of email marketing tools like those for split-testing to improve results.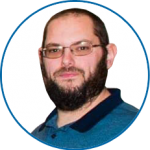 Software developper specialist
Want professional advice?
The deployment of new features in our email marketing software is overseen by this application programming interface (API) specialist.
Get more details on email subjet lines by contacting him right now! He will be able to assist you in a special project management tailored to your business needs.
E: strepanier@adnetis.com
P: 1-877-638-6584