Marketing automation has plenty of room for growth

Few maximize marketing automation opportunities
MARKETING AUTOMATION WILL ONLY GET BIGGER IN THE COMING YEARS AS MARKETERS GROW MORE COMFORTABLE WITH TECHNOLOGY!
Currently, though, usage has a decent way to go. In a December 2014 study by Ascend2, just 24% of marketing professionals worldwide reported using marketing automation extensively. Other responses did indicate a more advanced future though, as 35% had a limited use of marketing automation and 34% who weren't using it said they planned to in the future.
December 2014 polling by CallidusCloud also found bleak results, this time among sales and marketing professionals worldwide from business-to-business (B2B) firms—often considered more advanced at marketing automation than their business-to-consumer counterparts. Just under 13% of respondents said they had successfully automated 75% or more of their sales and marketing processes. Meanwhile, more than half said fewer than 50% of their processes had been automated, with the majority of that group automating less than 25%.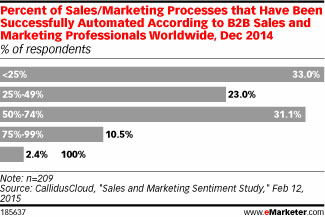 Marketers looking to accomplish a list of goals would be wise to jump on the automation train quickly. Among Ascend2 respondents, 86% said marketing automation was successful to some level at achieving important objectives. However, just 25% ranked this as "very" successful, suggesting room for improvement among users.
increasing sales revenues and lead generation were the most important objectives of a marketing automation strategy, each cited by 47%, followed by improving lead nurturing (44%), customer engagement (37%) and marketing productivity (33%). Though personalization is hot, just 25% ranked improving campaign targeting as an important objective.
Despite the powerful effect of sharing data companywide and the ability for marketing automation technology to help with that, only one-fifth of respondents said improving marketing-sales alignment was a top priority for marketing automation. This is in line with CallidusCloud's finding that technology solutions were fragmented across B2B sales and marketing departments. About three in 10 (31.4%) respondents said both departments had automation technology solutions, and among marketers only, just 28.6% said so.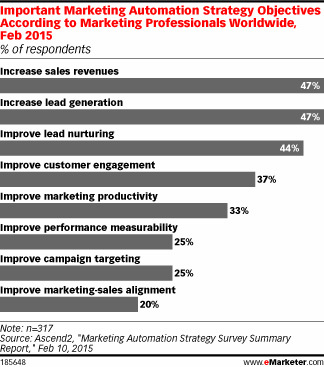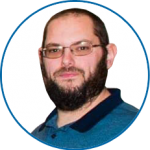 Software developper specialist
Want professional advice?
The deployment of new features in our email marketing software is overseen by this application programming interface (API) specialist.
Get more details on why marketing automation has plenty of room for growth by contacting him right now! He will be able to assist you in a special project management tailored to your business needs.
E: strepanier@adnetis.com
P: 1-877-638-6584